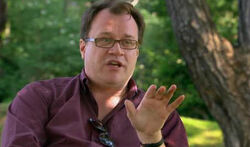 Russell T Davies, born Stephen Russell Davies in Swansea Wales on 27 April 1963, is the creator of and sole writer for the original UK Queer as Folk. He later went on to become the head writer of Doctor Who, a show oft referenced in his iteration of QAF.
Davies has written the following episodes for Queer as Folk:
External links
Edit
Ad blocker interference detected!
Wikia is a free-to-use site that makes money from advertising. We have a modified experience for viewers using ad blockers

Wikia is not accessible if you've made further modifications. Remove the custom ad blocker rule(s) and the page will load as expected.